Full 40″ diameter

Height: 10″
Virtually indestructible metal frame with baked-on, high-gloss enamel paint (the frame is dipped, not sprayed). The frame is also guaranteed to confidently support up to 300-lb. user weight,
New, safer spring-to-mat connection. "Little feet and big toe friendly," designed with your safety in mind.
Fitted legs that unlock and fold for easy storage of your ReboundAIR™ rebounder
Weight: Standard and Half-Fold – 34 lbs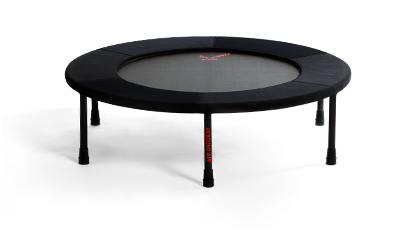 Designed with the best materials available at the highest level of workmanship, according to our strict manufacturing specifications and "stress-load" test procedures. Built for decades of regular use. The mat, springs, frame, legs, spring bolts and studs are covered under our famous lifetime warranty. Our All-Component Lifetime Warranty and Free Wear and Tear Replacement is included. No assembly required. A helpful owner's manual is also included. You owe it to yourself. You will thank us later. Specifications, brand comparisons and pictures.
ENJOY our famous Lifetime All-Parts Warranty and 30 Day Money Back Guarantee!
This is the model that was featured and recommended on The Today Show. The Marine Corps in Quantico, VA, have equipped their "Larsen Gym" with Standard ReboundAIRs.