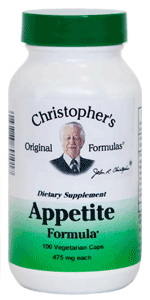 Let's face it: there's really no getting around the fact that maintaining a healthy body weight is a combination of many factors, mainly a combo of healthy diet and exercise to fit your physiology and lifestyle. And unfortunately, we know that foods, drugs and chemicals can short-circuit your body's pathways and cause unwanted weight gain.

That said, we also know it can be discouraging to begin a "diet" and exercise program and then have to WAIT for results. And in the meantime, becoming famished and weak from hunger. So we snooped around for a safe herbal formula designed to keep your cravings under control while you stick to your nutritious eating plan. That's when we discovered Dr. Christopher's Appetite Formula.

Appetite Advanced Formula

Simply stated, this special blend of herbs works by making your body more sensitive to the hormone insulin and aids the kidneys in relieving excess fluids, supports the body for relief from nervous tension generally caused by diets, appeases the appetite, nourishes the thyroid and thus helps you maintain a healthy weight.

This is not a crash diet of fast loss of weight, but accurate and natural loss, without robbing the body of needed nutrients that so many fad diets do. Made in the U.S.A. with NO added fillers or chemicals. NO magnesium stearate.

Suggested Usage: Take 2 capsules three times a day or as directed by your Health Care Professional. For optimal results take 1 hour before or after meals so as not to compete with digestion.

Ingredients: Black Walnut Leaf, Burdock Root, Chickweed Herb, Echinacea Angustifolia Root, Fennel Seed, Hawthorn Berry, Kelp Plant, Licorice Root, Mandrake Herb, Papaya Leaf, Parsley Root and Safflower.

Appetite Formula, 100 vegetarian caps - $21.95