Detoxadine Uses - For Exceptional Thyroid Enhancement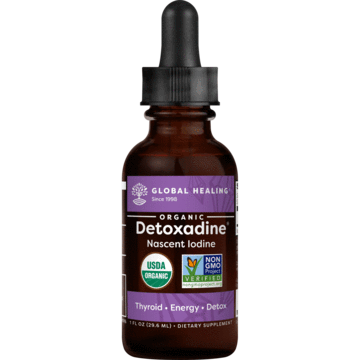 If you really want results in increasing your thyroid function and metabolism and want to achieve those goals more naturally we think you'll love Detoxadine.
The positive feedback from customers about Detoxadine has proven it to be a superb thyroid support product. Many users report generally "feeling better", feeling more energetic, losing weight (sometimes large amounts), sleeping better, less depression and have resolved other low thyroid symptoms like low body temperature and extremely dry skin and falling hair.
Detoxadine Where to Buy and How Does it Work?
Basically, rather than adding hormones to your body from an outside source, Detoxadine helps to stimulate the thyroid gland to produce normal amounts of thyroid hormone again ON ITS OWN. This is key because when the body is given an element it should be producing on its own, it often becomes lazy and shuts down production.
The thyroid gland, shaped like a butterfly and usually weighing less than an ounce, is intimately concerned with the concentration and metabolism of iodine to produce the thyroid hormones thyroxine (T4), and thilodothyronine (T3).These two are stored in the follicles as thyroglobulins until enzymes release them for metabolic use in the body. Their production depends on the presence of iodine in adequate amounts. One drop of Detoxadine contains 650 mcg. of nascent iodine.
Recommended Usage: Take 3 drops by mouth, immediately follow with purified water and swallow. Use once daily or as directed by your healthcare provider.

Ingredients: Nascent iodine, USP Kosher certified vegetable glycerin, triple distilled water
Nascent iodine is the most effective supplemental form of iodine. It is an atomic form of iodine with an incomplete number of electrons, giving it a high electromagnetic charge. The body can absorb and use nascent iodine easily for metabolic and detoxification processes.
USP Kosher certified vegetable glycerin is more gentle and stable than alcohol, USP Kosher certified vegetable glycerin is the best solvent base for Spagyrex® formulations.
Purified water is one of the best neutral carriers. It's effective, gentle, and, unlike alcohol, appropriate for everyone.

Detoxadine, 30 ml/1 ounce - $29.95
Detoxadine, 2 bottles @ $27.45/ea - $54.90

Detoxadine is a standardized nano-colloidal nascent iodine. It is produced with a transformative bio-elemental matrix and, with a glycerin base, is designed to be more gentle on your digestive system than iodine supplements that contain alcohol.

New Detoxadine Formula is 45% Stronger!

Detoxadine has been reformulated and is now stronger than ever before! Created from 300 million year old salt deposits located more than 7,000 feet below the earth's surface, new Detoxadine® is an extremely pure nascent iodine that is both concentrated and free of additives and toxins. Each drop is loaded with 650 micrograms iodine and it's screened for radiation.


The Top 5 Reasons You Need Nascent Iodine

1. Nascent Iodine is the Best Form of Supplemental Iodine

Compared to any and all other iodine supplements, Detoxadine's nascent iodine is the most easily absorbed and utilized form of iodine available.

2. Nutritionally Supports the Thyroid

Each drop of Detoxadine contains 650 micrograms of iodine to promote the normal iodine levels necessary to support the thyroid and encourage normal hormone balance.

3. Promotes Detoxification

Fluoride, chlorine, and bromine compete with iodine for the same thyroid receptors. Having enough iodine available helps defend and detoxify the thyroid against these toxic halogens.

4. Unmatched Quality

Unlike other iodine supplements which source iodine from the ocean, Detoxadine is created using 300 million year old salt deposits located 7,000 feet below the earth's surface. The result is an extremely pure and concentrated nascent iodine that is free of additives and toxins and also screened for radiation.

5. Potent But Gentle Formula

Detoxadine is nascent iodine in a vegetable glycerin base. Unlike alcohol based formulas, it has an extremely gentle taste and is appropriate for adults and children alike.

"If you don't like increased energy levels or feeling good, don't take this supplement. This little bottle packs a big punch! I feel charged up after taking this in the morning. Not an out of control or wired feeling but instead a smooth, controlled uplifting. Definitely more alert since taking this for the last 3 weeks. Get it and get the yuck out."
"Seems to give me energy and also gets things going in the bathroom in two different ways now because I didn't work my way up slow enough it gave me diarrhea but then once I backed down it gave me perfect poos more than once a day and now I've worked my way up and everything is perfect."
"It's difficult to tell what is effective when taking supplements because controls are not in place, however, my health has been steadily improving with this iodine product. I'm noticing that I have more stamina and am not experiencing the radical endocrine disruption symptoms that I was before. It seems that this iodine is working. I also feel that it is a good value for the quality."
"Much stronger. I use it in the morning and it SEEMED like I could feel it working. Lots of energy. The taste is stronger too though, which isn't great but I am glad they don't add any 'flavor'. 5 stars"
"Detoxadine has helped boost my energy levels and overall well being. It helps to decalcify fluoride from the pineal gland and balances the thyroid gland. It has made such a positive impact on my health that I sent some to my daughter who served in the Army to help detox her system from all the vaccinatons and other toxic elements she has been exposed to over the years."
"I was detoxing for about 3 weeks and spent a lot of time on the toilet during that time. After that I noticed more mental clarity (brain fog going away), better sleep and energy. After finishing the first bottle I took a break and slowly noticed my energy level decreasing and the brain fog coming back. Once I started taking it agin I went through a 1 day detox which took away the brain fog and my energy went back up. I now take it daily."
Detoxadine, 30 ml/1 ounce - $29.95
Detoxadine, 2 bottles @ $27.45/ea - $54.90

Detoxadine, 5 bottles @ $24.99/ea - $124.95

These statements have not been evaluated by the Food and Drug Administration. These products are
not intended to diagnose, treat, cure or prevent any medical condition. Testimonials provided here
represent personal experiences and may differ among individuals.